Description
Product Description
Copy your favorite movies from your friend's laptop on the HP 32 GB Pen Drive and enjoy watching movies on your system during the weekends.

Design & Capacity
This flash drive features a stylish and compact design which can be carried wherever you go. Transfer movies, games, photos, and more from one system to another as this pen drive has a capacity of 32 GB.
Performance
With a minimum write speed of 4 MB/s and read speeds up to 14 Mb/s, you can now copy and transfer even heavy files with ease.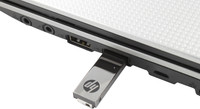 Compatibility
This pen drive can be attached to systems that run on Windows 7, Windows 8, and Mac OS 10.3.
Specifications
General
Sales Package

Model Name

Opening Mechanism

Supported OS

Windows 7, Windows 8, Mac OS :10.3

Part Number

HP_V-210 W – 32 GB_HP_V-210 W – 32 GB_Grey_Grey

Weight